And just when you thought 2020 was done with dishing up the weird and the wacky comes a late arrival out of South Australia. In mid-December Adelaide's Little Bang Brewing will do a potential world first and package and release 12,000 cans of the same hazy IPA but give each their own unique name and label.
With names like Religious Footwear Conspiracy, Rubber Weasel Arrangement, Experimental Bingo Cake and Satanic Burp Detector and all featuring a unique but on trend label, the concept is the brain child of Little Bang's Ryan Davidson. He along with co-founder Fil Kemp were both computer game developers before they were commercial brewers.
While the outrageous concept perfectly sums up the year, Ryan said it had actually been years in the making as he carefully constructed a data base of "inherently funny words" and an algorithm to then create the beer names via their digital printing system. In conjunction with their designer Matt O'Connor a similar process was created to make the labels that aren't a far cry from some of the limited release IPA label designs on the market.
"I'd like to say I specifically timed it for the end of 2020 but the truth of the matter is it's been in development for about two years in one form or another. This just so happens to be the time when it all came together," Ryan said.
"But I think it is the perfect time to land when we are all still a little bewildered and the foundations of our idea of reality and truth have been shaken – not just by COVID but by the absolute appalling and surreal display that was the US election.
"So what better time to introduce something that hopefully breaks a couple of categories of what we consider to be the normal everyday nature of beer?"
The arrival of the concept also comes at time when we see a proliferation of new beer releases almost every day, many of them hazy IPAs with unique names and can art, that are all jostling for the same attention and where drinkers strive to be the first to rate them on Untappd or post the experience on social media. Little Bang's idea feeds directly into that "haze craze" before taking it to hitherto unseen levels.
"My main pitch for it was that through all this madness and this uncertainty we have been able to rely on the fact that every week there will be at least one new hazy IPA release which will bring that predictable joy and predictable dopamine surge that we all so desperately need to keep us going," Ryan said.
"So we are just mainlining that energy into 12,000 utterly unique and individual beers that people can be guaranteed they will have the first and only one – just for them."
The unique labels were designed by Little Bang Brewing and then printed out by its regular label printer, Peacock Brothers, using the HP SmartStream technology on its HP Indigo full CMYK digital printers.
Little Bang Brewing has worked with Peacock Brothers and HP technology prior to this product, but this is the first time that the former has utilised the mosaic and variable text ability to its full capability.
"When Peacock Brothers introduced us to this technology, we didn't know how little of it is used by the market, and it's uncommon to see it used in this way. And in fact, when we were part-way in use of the technology, we had to engage HP's R&D department in Israel for their expertise," Davidson said.
The label was made in a low-gloss, satin finish, with strong colours on a silver backing but required a hot metal adhesive to stick the waterproof label onto the can as the cans are packaged at zero degrees and have to be able to withstand cold temperatures.
"We're always trying to insert creativity into the process. The craft beer market is saturated, so we needed an idea that allowed us to express ourselves in a bold, progressive way. This opportunity has opened our doors to using this kind of algorithmic, generative art into other labels as we move forward," Davidson said.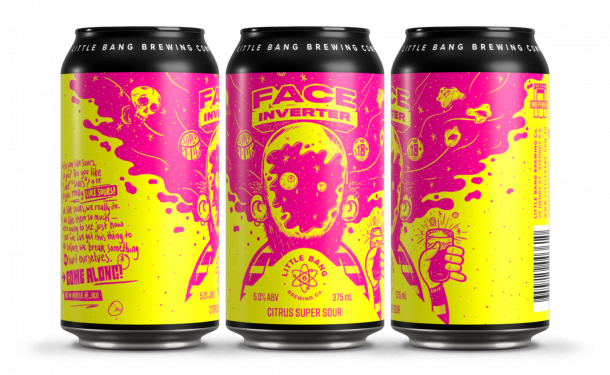 Little Bang are no strangers to unique can art with their designs often some of the most striking you'll see in a bottle shop fridge. Its Face Inverter Citrus Sour (pictured above) also took out this year's inaugural GABS Can Design Awards that championed great design in the Australian beer industry. But 12,000 unique designs is lofty – even for them.
"We analysed the IPA design eco-system, and by aggregating what we saw as trends, we created something that you can then look at on the shelf and it has that look and feel that we're coming to recognise for the category while still being uniquely Little Bang at the same time.
"I don't think it's been done before – even globally to my knowledge. A world first perhaps?
"But then in saying that there is probably a really good reason why it hasn't been done before and that's because firstly, no one knows what the beer is even called and secondly no one can even describe what it even looks like! Way to go marketing team."
The 12,000 cans of 6.3% hazy IPA will be canned in mid-December and will be on shelves in Adelaide before Christmas and then will be available elsewhere in Australia in the New Year.
Little Bang said it will be delicious too: "It's a hazy IPA the way we love it – super aromatic and fluffy, but still solid and satisfying. A touch more bitter bite and a little bit less sugar delivers a snappier, more sessionable hazy experience."
This article was first published in Beer & Brewer.