As Australian manufacturers and packaging companies pivot to meet the 2025 national packaging targets, there's still a significant source of single-use plastic that is yet to be addressed – bin liners.
Following the phase out of single-use plastic bags at most major shopping centres across Australia, and several state jurisdictions, many consumers have had to either purchase bin-liners, or use the thicker, reusable bags as a replacement for the thinner, single-use options freely provided in the past.
For TOMbag co-founders Sasha and Johnathan Pestano, it's a clear blind spot in a market where consumers are already aiming to cut out as much unnecessary single-use plastics from their lives.
That's what led them to design the TOMbag – a waterproof bin liner that is heat sealed and can be used "for a year" according to the founders, and can be used instead of the standard reusable bags received at shops, or store-bought bin liners.
As they state, "Some consumers are now reusing thicker plastic shopping bags from the supermarkets as their bin liners but these bags can contain three times as much plastic as their predecessors – single-use carrier bags that were previously handed over for free. They also take up to 1,000 years to degrade in landfills. They therefore pose a much bigger threat to our environment".
Frustration turning to action
Sasha went on a journey to go plastic-free after the birth of her daughter, Lyla, and found replacing her bin bags with a reusable option was almost impossible.
"When trying to find a reusable alternative for our single-use bin liners, I couldn't find anything except of reusable diaper bags that were advertised as reusable bin bags. We used it for a few times but as those were not designed to be reusable bin bags they started to leak and smell after only couple of uses. We had to throw them away," she said.
It took eight prototypes to develop the TOMbag, according to the co-founders, all while working remotely with a manufacturer based in China during the COVID-19 pandemic.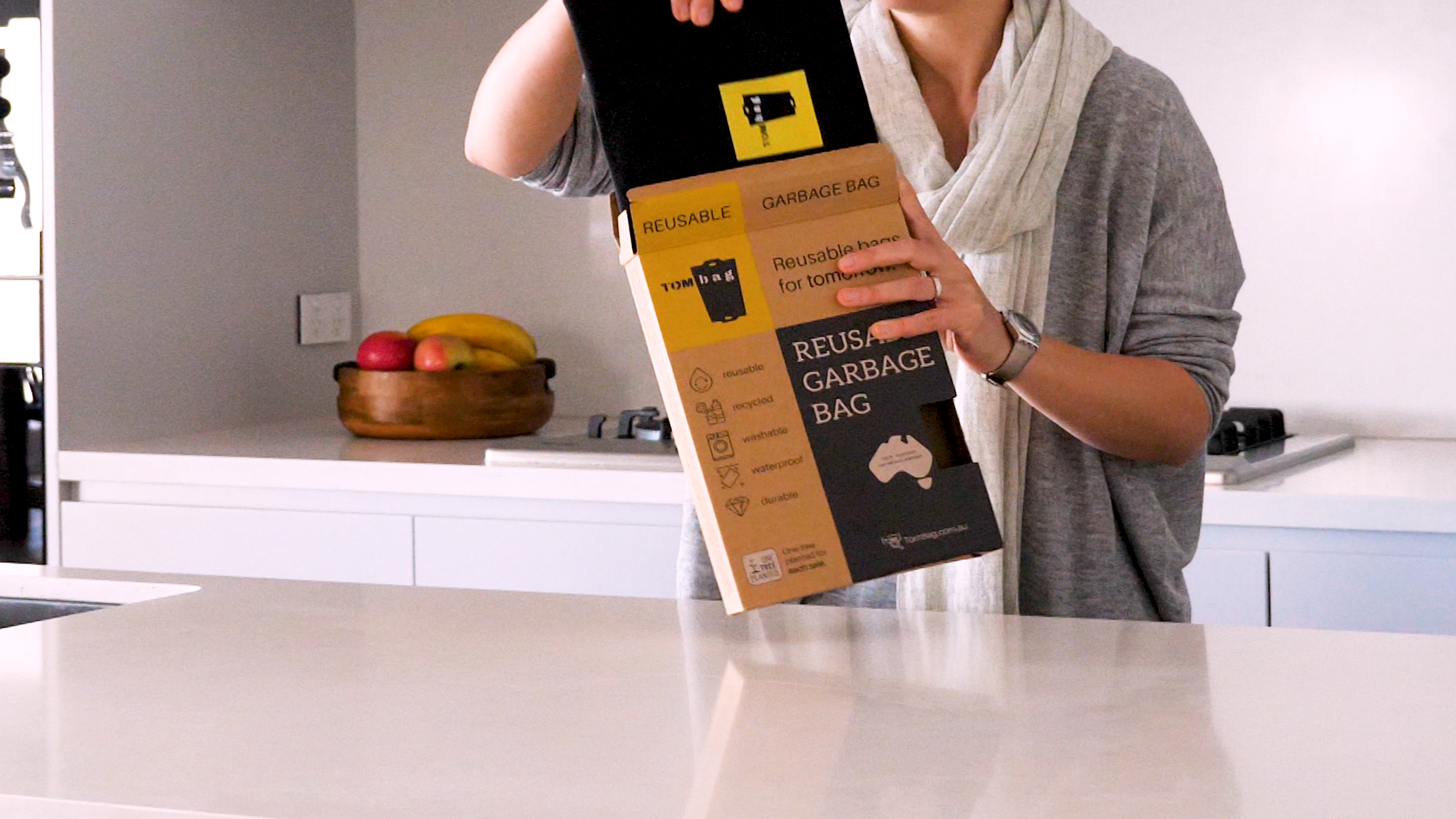 While the duo wanted to manufacture it in Australia, they couldn't find a local factory that could assist them with heat sealing – a process that is making TOMbags 100 per cent waterproof. They also couldn't find a local supplier that would be able to create a special fabric using 100 per cent certified recycled plastic.
Sasha and Jonathan are both fluent in Mandarin, having lived in mainland China in the past, which made finding a manufacturer much simpler.

Jonathan said, "When we set out to create a reusable bag, we set out to make the best product that can be made for this category. That starts from the material, GRS certified rPET. That is more expensive than virgin plastic. Then there is the way that we make the bag, including the thickness of the rPET, the materials, and the inner lining.
"The rPET + TPU combination didn't exist when we started out. It costs us quite a lot to make it."
Sasha further explained, "We started with B2C first, and still sell our TOMbags through the website, and some online retailers in Australia to individual consumers. Recently we started to target businesses who want to be more sustainable, and have a target to hit.
"For consumers it's more challenging. It's a small niche. Only eco-friendly people think about sustainable products in general. That's a fraction of the market. Then, it's a totally new category, a reusable garbage bag.
"You need to educate them on how it's working, and overcome the psychological obstacles, how to wash the bag."
Commercial opportunity
Sasha and Jonathan started reaching out to hotels, resorts, facility management companies, cleaning companies, co-working spaces, and multinationals four months ago, and now have some pilot placements set up.
One of those is a facility management company in the which is currently using single-use plastic bin liners across the business.
Sasha said in 2017, they used 600,000kg of single-use plastic bin liners.
"That's just one business, in one country of operations," she said.
ProPack.pro asked the founders why they created a bin bag when there is the option of just putting waste directly into a bin without a liner, then washing it out. They said it's a question they get often.
"Our bag, in terms of comfort, is in between a naked bin and single-use bin liners, closer to single-use bin liners. We do realise that a naked bin is the best solution for the environment," they said.
"But if we're talking about businesses, it's not realistic. Imagine hotels with 500 rooms, or offices. They don't have access to washing facilities or machines. They don't have the possibility to wash 500 or 2,000 bins."