MGI and Konica Minolta together have taken the wraps off a new JETvarnish 3D Web Color + press at Labelexpo Europe 2019.
The JETvarnish 3D Web Color + is said to be the world's first inline label and flexible packaging solution for high-definition digital CMYK colour printing, personalised 2D/3D dimensional textures and variable embossed foiling applications.
It features semi-rotary cutting and slitting functions, as well as both corona treatment and flexo primer coating stations for maximum substrate diversity and print surface flexibility.
The range of flexible packaging and label materials that can now be decorated with visual and tactile enhancements includes plastic, synthetic and paper-based stocks. These substrate management tools are also complemented by an automatic rewinder utility and a self-cleaning inkjet system.
Konica Minolta Business Solutions Australia industrial print national manager David Cascarino said the JETvarnish 3D Web Color + analyses each piece with the AIS Smartscanner intelligent and adaptive registration system.
"We took all the intelligence that MGI has in doing sheetfed, jet varnish printing, spot UV and raised foiling into a web-based solution for the label market. The initial web version was released at drupe a few years ago but this version provides added functionality," he said.
"It's one solution offering an end-to-end functionality. This is the first time we're launching globally but we're in the process of localising it for the Australian market. But we've already received significant interest from the Australian Labelexpo attendees."
According to Cascarino, the product supports many of the Australian industries, which includes wine and manufacturing industries.
"Our print lengths are shorter, so it makes more sense to have a digital embellishment appeal as opposed to a traditional embellishment process," he said.
Konica Minolta also showcased a solution that it has in beta – a flexo version of the Accurio Label 230.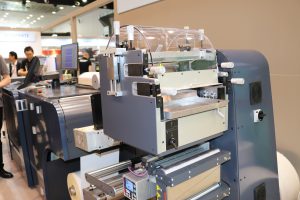 "It gives us the opportunity to a white to CMYK printing. It extends the application range that we can apply the 230 to. We're expecting to release this solution next year," he added.
In addition, the attendees of Labelexpo Europe 2019 also experienced four other different printing and embellishment presses from MGI and Konica Minolta, including the AccurioLabel 230 digital colour press.
Ideal for short and medium-range production runs, it succeeds the AccurioLabel 190 press.
Konica Minolta's Accurio-based Sensing's colour calibration technologies, as well as the onboard JETvarnish 3D Image Editor and Job Cost Calculator software solutions of MGI, will be also highlighted at the trade show.