The L9 World Label Association has presented the winners of the Best of the Best awards, which were judged by an international panel of judges during Labelexpo 2019, with Australian businesses winning two categories.
Jamesprint and Multi-Color Corporation Australia were recognised for having some of the best labels globally from the five main printing technologies flexography, letterpress, offset litho, combination printing and digital printing, and were selected from the winning entries in the 2019 label competition.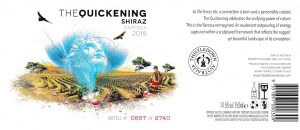 Multi-Color Corporation Australia won the digital printing category for the creation titled The Quickening. The design of the label includes the use of silver hot foil and its print on a slightly cream paper substrate which softens the impact of the landscape illustration.
Jamesprint won the offset litho printing category for its La Di Da Malbec creation. Judges were wowed by its use of cold foiling, gloss spot varnish, and intricate design.
Multi-Color Corporation North America Wine and Spirits from the US won the flexographic printing category for the Freakshow Chardonnay label. The combined use of gold ink and cold foiling creates a great framework for the central theme of the label, which resulted in its win.
Shinwa Label Printing Co. Ltd from Japan won the letterpress printing category for the Konbucha label. The extensive use of silver foiling added a high degree of interest to the overall design, which attracted the judges.
Maru-sin Co, Ltd from Japan won the combination printing category for its Wakatakeya Brewery label. The whole label is printed on a wood simulated substrate and won for its concept and design.
The awards are normally presented to the winning companies during the Labelexpo Americas event in Chicago in September 2020. However, since the event has been postponed to March 2021 as a result of COVID-19, it was decided that the awards would be presented by the appropriate local association.
However, award winners will receive recognition during the postponed Labelexpo Americas event.