Next Printing Australia was just a large format printing company that was created in 2004, but the company has, to date, branched out its offerings to become one of the leading printing and labels businesses in Sydney.
At a recent Dscoop Edge Fusion session, Next Printing Australia group and Renton Labels managing director Romeo Sanuri revisited the history of the company and how its expansion into the labels business, along with the purchase of a HP Indigo, has benefitted the business.
"The idea of creating Next Printing came after the Sydney Olympics in 2000, when we saw the opportunity in signage and large format," Sanuri said.
"Large format was something we had little knowledge of back then, but it was exciting and new and as we were keen to learn, business grew. We then branched into other parts of printing, like fabric printing.
"But over the years, we were always concerned about the environment. We used to use solvent as technology developed, we moved into UV printing.
"Three to four years ago, we then started looking into other areas that we could move into as large format was very commoditised, and barriers to entry in this area was low. We decided to branch out into labels as there was a lot of learnings arising from it.
"The turning point was in 2019, when we acted on it following requests from our existing clients to create labelling solutions for them."
At that time, Next Printing Australia also acquired a small labels printing business, Renton Labels, and ran it under its original name at the Next Printing factory site in St Peters.
However, the business wasn't delivering on the scale that Next Printing wanted it to, so the business invested in a HP Indigo 6900 digital press supplied by Currie Group.
"The press that Renton Labels came with didn't provide us with the firepower that could fuel larger opportunities, which the HP indigo did," Next Printing Australia and Renton Labels head of sales Pranil Chandra said.
"It's been about 15 months since we've had the HP Indigo and it has more than doubled our business and we're currently implementing other strategies to double the size of growth again over the next 12 months."
The business also recently beefed up its ability to print textiles for the increasingly popular backlit light box display market, with the installation of the Asia Pacific region's first HP Stitch S1000 dye sublimation printer.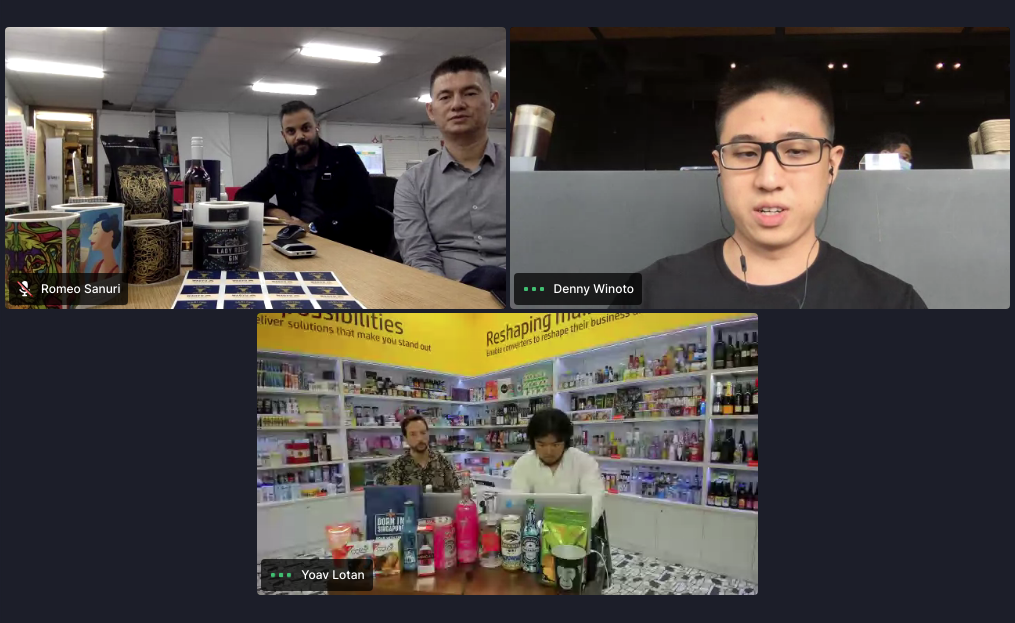 Sanuri said the business is continuing to see good growth in the labels sector, with the company planning to increase its focus into that area of expertise.
"We want to be a business that can deliver on our customers' needs. We aim to reengineer some of their products by delivering different and quality solutions, while helping them reduce their costs," Chandra added.
Chandra also provided an example of how Renton Labels helped a customer reduce costs.
"The customer's product manufacturer used to create labels using an inkjet press but the customer didn't like the quality that it was getting, particularly on the silver and gold print on the labels. Migrating over to us, the company is now much happier with the colour consistency it's getting across the different products in its range," he said.
"Since then the business has stopped asking its manufacturer to create labels and have moved over to us."
This particular client was a large format client of Next Printing Australia's.
"The client always used to order one banner from Next Printing every year, which cost about $200. After we branched out into labels, they were keen providing us more work in that side of our business, which has brought in about $40,000 a year," Sanuri said.
According to Chandra, there are untapped opportunities in the labels space as it remains relatively unmastered as a result of multiple varying combinations that exist.
"This space is a space we want to be in but is a work in progress for us. It needs a good front end as well as a robust back end. From our perspective, we're looking to partner with businesses that already have a strong front end and a customer base," he said.
"Customers are still learning about the benefits of personalisation or hyper-customisation. And especially during COVID, companies have been coming up to us asking for smaller run quantities. So, those will be our areas of focus, going into the future."
Sanuri also spoke about the company looking to streamline its workflows, as well as its opportunities in the digital embellishments space and the security space when it comes to labels.
"We have already invested in a few different solutions around security. For example, we're working on our first security project where a QR-coded label is printed and goes into a box. There will be a lucky winner from one of the scanned codes, who will win a $10,000 prize, so the customer wanted as much security into it as possible," Chandra further explained.
"So, with the security label, we created a two-pronged approach which includes an online verification that the scanned QR code software links to, to make sure that it's scanned only once. Once that has been verified, we're using micro text that comes with the HP Indigo for verification."
He also said he expects the uptake of these solutions to occur more in healthcare and in the wine industries in Australia.
"Major brands in Australia all want to do it, they just don't know how to go about doing it; so, we aim to be the leader in it and are putting our focus into it," he mentioned.
Indonesia-based FlexyPack co-founder Denny Winoto was also in the joint conversation, and shared more about his business and how it has navigated market changes in the country.