HP was recently at dscoop Edge St. Louis, where, alongside 1,100 print industry leaders, it discussed the competitive advantages of the digital print industry and showcased its latest technologies aimed at increased speed and productivity.
HP Industrial Print senior vice-president and general manager Haim Levit said, "dscoop is about harnessing the power of community to network, communicate, and innovate. dscoop is HP's commitment to building an ecosystem that includes our solution partners and allows them to be agile in today's economy.
"Also, this event is the opportunity for the entire dscoop global community to meet HP personnel, to listen to each other and discuss current and future challenges, and to enable developing a joint roadmap to continued market leadership."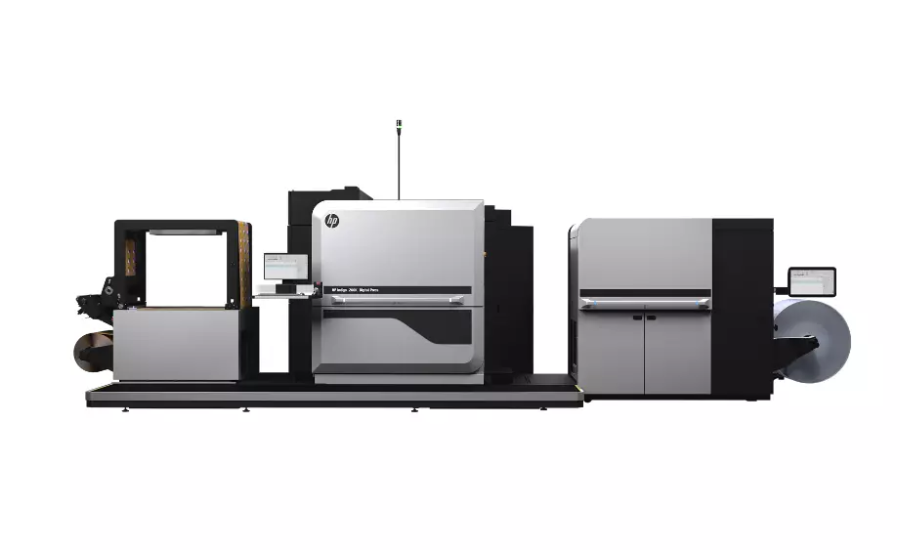 During the annual event, HP Indigo showcased the brand-new HP Indigo 200K Digital Press for the first time in the US, along with the HP Indigo 100K Digital Press, which according to the company, continues to push the analogue to digital market transformation.
Show visitors witnessed the HP Indigo 200K in action with the end-to-end Digital Pouch factory solution.
HP said the 200K is the most productive flexible packaging press, which enables printing pouches in days, not weeks.
It is based on the only proven technology for on-demand, sustainable flexible packaging, potentially offering an increase of 30 per cent in speed and 45 per cent in productivity.
HP Indigo and Scitex vice-president and general manager Noam Zilbershtain said, "During last year, we saw the percentage of new customers buying Indigo double. This trend supports our vision of the analogue to digital conversion.
"This week, almost 40 per cent of the visitors are attending dscoop for the first time. I'm excited to see this community grow together as we shape the future of the print industry. Only those who dare may fly.
"As an industry leader with a global presence, HP Indigo can provide businesses with a degree of resilience during a challenging economic atmosphere. The combination of state-of-the-art presses and advanced software with industry best practices positions us to help the print world become Future-Ready."
Following a record year of B2 sheetfed press volume, HP Indigo is also celebrating the installation of 1,000 HP Indigo B2 presses. The 1,000th B2 machine is an HP Indigo 100K digital press, and the new owner, PSP Hederman Brothers of the US, has been growing steadily during 125 in the print industry.
According to HP, the HP Indigo 100K B2 press enables true digital nonstop print capabilities at 6,000 sheets per hour and drives substantial, profitable growth.
To date, the 100K press has already set new standards, with more than 100 customers having reported output of 100K impressions in an eight-hour shift.
Blooming Color president Brian Scott said, "We have shown a 40 per cent increase in revenue one year after installing the HP Indigo 100K."
Also at dscoop, HP Indigo also announced the new HP Indigo 100K HD, with "smooth and razor-sharp image quality", and its first two beta sites, at Miller's Professional Imaging Lab in the US and Orwo Net image processing and digital photo services in Germany.
Earlier this week, HP Indigo announced the PrintOS Software Suite, which infuses power into the production floor and envelops it with productivity, quality, creativity and automation tools.
The PrintOS Suite highlights the differentiation of the HP Indigo offering and the business growth the company's software and data promote. The innovative operating system allows customers to digitise their production floor end-to-end. The HP Indigo PrintOS Site Flow has led to a growth of 242 per cent in print volume since 2019, and Spot Master has seen a 105 per cent growth in adoption during 2022.
In addition, dscoop launched a Distributed Print Exchange Platform (DDPE), which offers HP customers and dscoop members an exclusive, competitive advantage by simplifying outsourcing to a trusted partner, enabling them to broaden their service offerings, expand their reach to new geographies, and reduce delivery time, expenses, and carbon footprint by producing locally.
HP Indigo director of industrial software solutions Petar Obradovic commented, "We are excited to cooperate with dscoop on its DDPE initiative and delighted that it selected HP PrintOS Site Flow as the technology backbone for it."
HP PageWide is demonstrating innovations to the HP PageWide Advantage 2200 with high HDNA quality at full speed, 50 per cent faster, and a new version of PrintBeat within PrintOS that seamlessly provides HP users with a similar look and feel to make it easy for them to work with across the HP portfolio of products.
PageWide Industrial global head and general manager Annette Friskopp said, "Customer growth is our top priority and our true north. This is why having a strong and engaged user group is mission-critical to our business. We are excited to share PageWide customer stories at dscoop Edge.
Bob Jones University Press president Bill Apelian said, "Our relationship with HP is special. Not only does it understand our business and have our back with its ability to support and grow with us, but with the new PageWide web press, we've revolutionised our business.
"With only two operating worldwide, the HP T485 Page Wide Digital Press with HP Brilliant Ink is the first of its kind in the United States and is custom-built for BJU Press. The machine's duplex and binding system can produce a 700-page textbook in 10 seconds and will increase production speed by over 300 per cent."
Another debut at dscoop this year was HP Large Format showcasing the HP Latex R2000 Plus Printer, a hybrid solution that is equally strong in rigid and flexible substrates.
The HP Large Format stand also showcases applications with thermoforming samples, short-run packaging and signage opportunities on a wide range of media, as well as a sustainability section explaining how print service providers can reach new levels of sustainability using the latest large format technology.
Currie Group, the local distributor of HP equipment, is attending the event. Stand by for more detailed coverage shortly.