Brisbane-based supplier G2psd has installed an iEcho PK+ flatbed cutter at Crystal Media in Brisbane and its first Intec Printing Solutions UK digital die cutter to a company in Western Australia.
G2psd business development manager Terry Mays said the installation of the iEcho PK+ flatbed cutter was done at Crystal Media in September as the latter was looking to beef up its portfolio with the latest in flatbed cutting technology.
"Crystal Media is a medium-sized business that has a digital arm and it also works in signage, lithographic offset and bindery. Effectively, the company can start a job, plate it, then send the job to digital or offset – offering an end-to-end solution," he said.
"The company has a flatbed that prints a lot of corflute, and given that the iEcho PK+ can cut through 6mm of corflute, the latter fit in well with its needs. The beauty about the iEcho PK+ is that it has an auto-feeder on it. So, rather than having to be put on manually, the corflute is picked up onto the table automatically and cuts and creases all in one hit without having added supervision required."
Mays said since installation, the iEcho PK+ flatbed cutter has made Crystal Media more productive and has resulted in the business getting more work through.
"The machine is named 'the beast' at Crystal Media because of its speed and its ability to get work done efficiently," Mays said.
"It works seamlessly with other machines – it fits with any digital press. It's connected to a Ricoh press at Crystal Media and has improved the company's processes."
Even though the installation was done during COVID, Mays said the process went very smoothly.
"There were no delays of the machine shipping out of Asia. The machine itself was easy to install, which G2psd managed to set up with ease. We've even lined up two more units that are currently being shipped out to Australia," Mays said.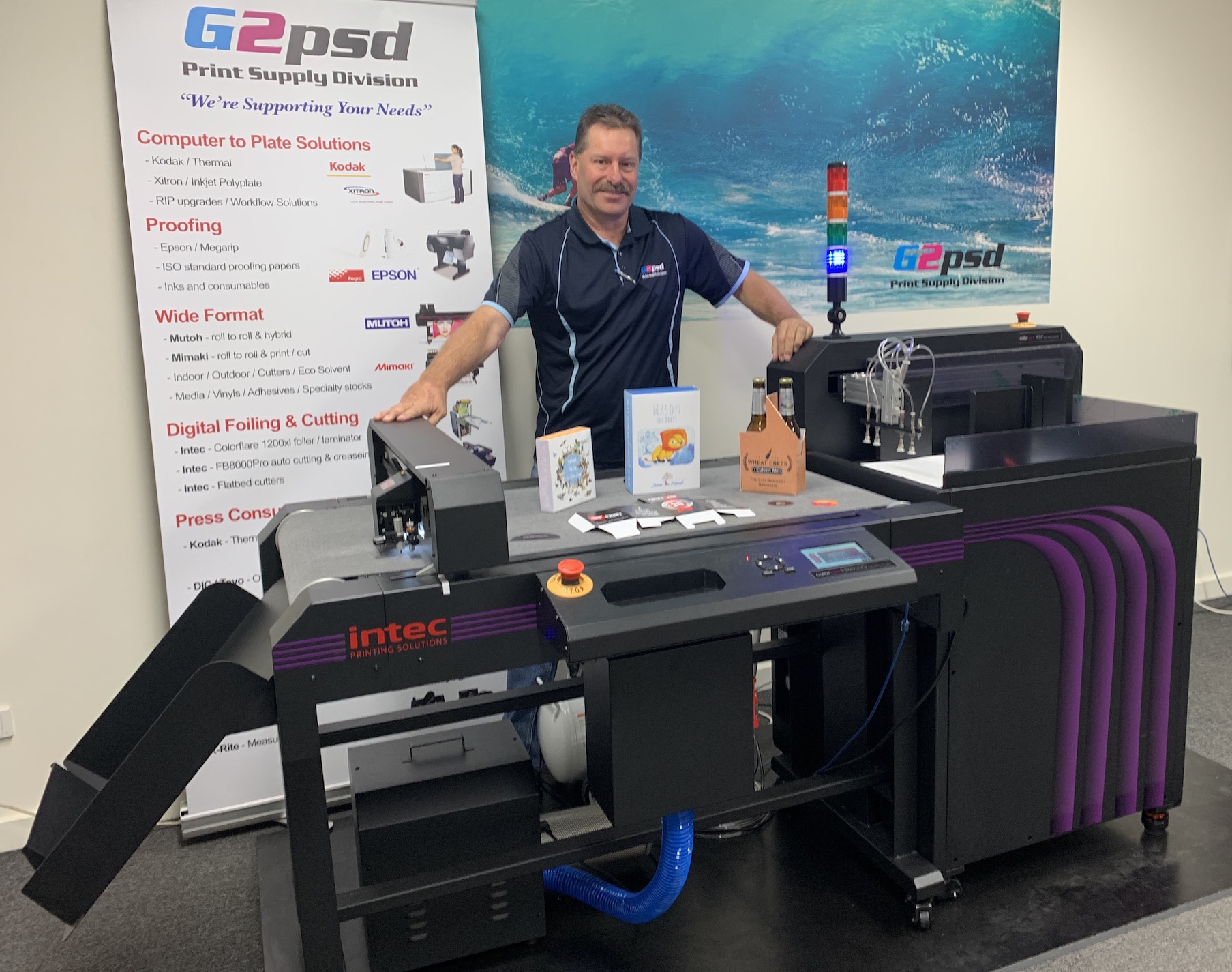 As for the Intec Printing Solutions UK digital die cutter installation, it is for a version 2 FB8000 Pro automated cutting system.
Mays said offering the digital die cutter in Australia has enabled the business to extend its reach beyond offerings in pre-press to press to include post-press.
"The nucleus of G2psd is offset printers, consumables, software RIPs, colour management, CTP, and wide format printing – predominantly Mimaki, Epson and Mutoh – and mostly within the pre-press to press stage," he said.
"Bringing in Intec has enabled us to 'dip our toe in the water' within the post-press space."
G2psd became Intec Printing Solutions UK's distributor earlier this year, giving the former the ability to distribute the latter's digital printers, foiling and cutting equipment in Australia.
The deal was made after G2psd director Bernie Hockings returned from a one week familiarisation course in the UK, impressed by the technology being released by the UK manufacturer.
In conjunction with ColorCut Pro3 software, the FB8000's firmware has been re-engineered with intelligent cutting algorithms to deliver performance that is up to 40 per cent faster than its predecessor.
Its auto sheet feeder enables users to stack up to 25kg – up to 2,000 of printed media – which is loaded on to the cutting mat using a pneumatic feed system with vacuum pick up suction pads and a sophisticated air blade system, to help eliminate miss feeds.
"The version 2 FB8000 Pro automated cutting system is most suited for industry players within the digital space, especially those in short-run, personalised packaging. This kit is not for major high volume production. It's more for production of up to about 250, which seems to be a niche market these days," Mays said.
"The auto-feeder is the jewel in the crown in this machine. It's set and leave, so you can attend to other duties instead of having to solely manage the machine. The press is also efficient, accurate and works speedily."
According to Mays, a lot of thought and discussion went into the Intec distribution deal.
"With our other machines, we can sell the machine and the consumables around it. But with this press, it's just the machine. So, when Bernie and I had the conversation about bringing it into Australia, we assessed the possibility of us going into a new area of play," Mays said.
"We thought that it makes a good add-on for any business that is in digital. And the kit works seamlessly with other presses from other manufacturers; there is no commonality required. Doing this enables us to find our way into other businesses that we never had previously.
"Having this particular application might get us into more doors, hopefully, than we have ever done before."
Mays also mentioned that since the press is made for sheet labels and packaging, it opens G2psd up to a plethora of businesses that work across multiple verticals.
"There are a lot of digital users out there and they might not even be in the printing industry. There are so many other avenues like cosmetics packaging or pharmaceutical packaging that can take this online; the list is endless in packaging as the packaging industry is only booming in Australia," he mentioned.