This article was authored by HP
The pandemic might seem to be receding, but border and port closures, knock-on shipping bottlenecks, raw material shortages and other disruptions to the global supply chain are far from over. Climate change-related extreme weather, new market trends and emerging regulations all add complexity and uncertainty. It's no wonder that supply chains are struggling to keep up with demand on any given day.
According to the UN's latest Review of Maritime Transport, shipping schedules are running at less than 40 per cent reliability, down from 75 per cent in the first months of the pandemic. On average, ships are docking six to seven days late. That might not sound like much, but the impact on production schedules can snowball when supplies come from multiple sources. With global shortages in a wide range of raw materials and the long lines of container ships waiting to enter ports, such as the 109-ship pileup outside the ports of Los Angeles and Long Beach, CA in January this year, it's almost impossible to know from one day to the next what goods will arrive and when.
In this environment, brands and packaging converters, like all manufacturers, need more versatility and resilience in every aspect of their supply chain, from sourcing of raw materials to delivery of final packaged goods to consumers. Supply chain executives need to be able to plan with more flexibility and shorter timelines. At the same time, they must evolve from the linear supply chain that was the norm before the great ecommerce boom to a multi-channel model combining online sales and delivery with multiple brick-and-mortar retail scenarios like warehouse stores, chain stores and boutiques.
The value of digital printing
The use of digital printing for more jobs, including higher production volumes, is in sync with manufacturers' need to improve performance and become more agile and responsive to market changes. Transitioning more packaging jobs to digital printing allows converters to offer brands agile solutions to optimize supply chains and to help unclog the pipes.
Digital printing improves supply chain efficiency by enabling faster time to market, from design to shipment. Because makeready and setup requirements are minimal, and press changeovers are quick, production turnaround with digital can be just days, instead of weeks. It also eliminates the costs and raw materials associated with traditional printing of corrugated packaging.
Printing closer to customers
Post-pandemic, near-sourcing is a vital strategy in ensuring resilient, flexible and agile supply chains. Due to hefty and increasing shipping costs, which reflect the current record-high fuel prices, and long queues at ports, outsourcing packaging manufacturing to Asia or other far-away locales is becoming less and less justifiable.
With HP digital packaging solutions, brands and converters can bypass such issues. HP presses provide reliable worldwide press coverage with the same high-quality print and color consistency regardless of printing location. Printing worldwide campaigns in multiple locations close to customers reduces warehousing and distribution costs.
Additionally, using digital print enables brands to optimize their supply chain process. Instead of planning months in advance, strategies can be more flexible to meet inventory and market demand. As well as the supply chain benefits, digitally printed packaging gives brands the power to engage and communicate directly with their consumers. This key advantage can be used to highlight anything from a brand's philanthropic positioning to upselling products, and more.
Printing responsibly
The global drive toward sustainability places additional stresses on the supply chain. Brands are under increasing regulations relating to every aspect of the final product, including the packaging, all the way to end of life (recycling and disposal). A recent survey by McKinsey found that 29 out of 30 countries surveyed are considering or have implemented sustainable-packaging regulations. At the same time, consumers are increasingly aware of the role packaging plays in how their buying decisions impact the environment. The same survey noted that most consumers are very concerned about packaging and are willing to pay a premium for sustainable packaging.
In general, digital printing improves the sustainability of packaging by allowing print-on-demand in any quantity needed, reducing obsolescence, waste and warehousing. HP digital corrugated solutions offer additional eco-benefits. The HP PageWide true water-based inks, containing no hazardous air pollutants, are designed to meet worldwide regulatory requirements, such as UL ECOLOGO, USA FDA, Swiss Ordinance and Nestlé guidelines, and support packaging recyclability and compostability. Additionally, HP's printing process itself is designed with sustainability in mind, with environmental benefits such as an automatic clean up procedure for the printheads, reducing the water used in press cleanup.
Optimising packaging costs
A close look at the true costs of packaging production highlights stark differences between analog and digital printing. Many of those aspects have direct implications for the supply chain – notably rush orders, obsolescence, printing plates, inventory holding, aged stock, and re-packaging.
Some digital presses, such as HP PageWide corrugated presses, enable use of lightweight papers, saving costs and leading to lower materials- and transportation-related carbon emissions. HP digital corrugated presses can print on lower-grade paper, without compromising on print quality, enabling savings for both converters and brands.
Brands thrive with digital printing
Cosmetics giant Estee Lauder has been using HP digitally printed packaging through Milano based converter Ghelfi Ondulati to improve their supply chain flexibility and support their sustainability goals, with great success.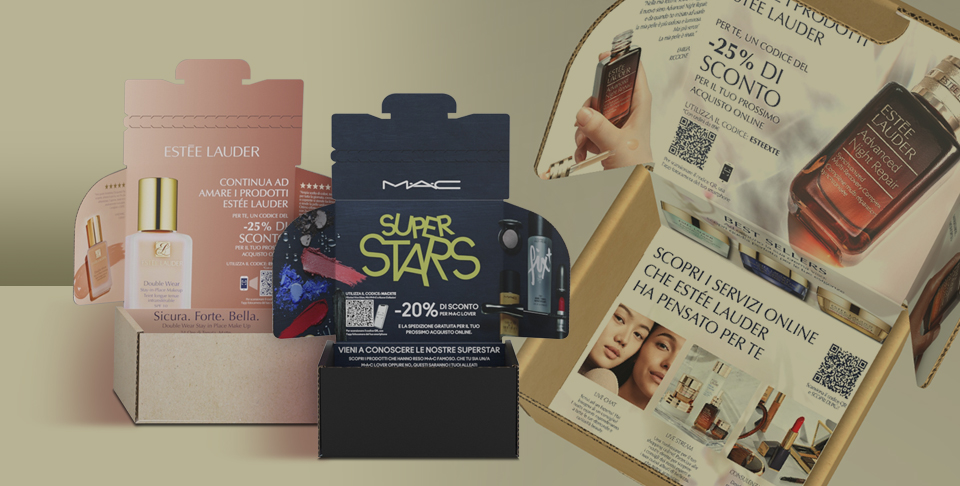 Digital print enabled Estee Lauder to cost-effectively trial new e-commerce packaging designs in select markets in lower quantities and in multiple versions. Digital also helped them to be more flexible during the pandemic as project requirements and timelines shifted. Additionally, the ability to produce short-to-long runs digitally and deliver orders quickly supports Estee Lauder's ability to match box production to demand, helping to reduce inventory and waste, while engaging directly with their consumers for upsell.
"At Estee Lauder, we are trying to find every day new ways to improve our supply chains," said Andrea Santangelo, Corporate E-Commerce Manager for The Estée Lauder Companies Inc. "Thanks to digital printing we need less inventory, we reduce waste, and we stay in line with our goals for sustainability."
Like all manufacturers, packaging converters need flexible and streamlined operations, which demands the same of their supply chains. Digital printing can help by providing the flexibility to adjust quickly to changes in demand, shortages of materials, trade flow blockages and other disruptions. Additionally, digital packaging can help with meeting supply chain sustainability goals by reducing waste and transportation. In particular, HP digital solutions for corrugated packaging enable use of lighter-weight and lower-grade paper and to print direct-to-board, empowering converters and brands with more options for supply chain flexibility and cost reductions.