Australia-based Result Group has been named a winner in the Fresh Fruits and Vegetables category of the WorldStar 2023 Awards organised by the World Packaging Organisation for its Australian Table Grapes Traceability Pilot. The same project was also rewarded in 2022 by the 2022 Australasian Packaging Innovation & Design (PIDA) Awards.
According to the company, the Australian Table Grapes Traceability Pilot is one of Australia's largest traceability and authentication projects. This achievement results from a collaboration between Australian Table Grape Association (ATGA), Agriculture Victoria, Perfection Fresh Australia, GS1 Australia, and Result Group.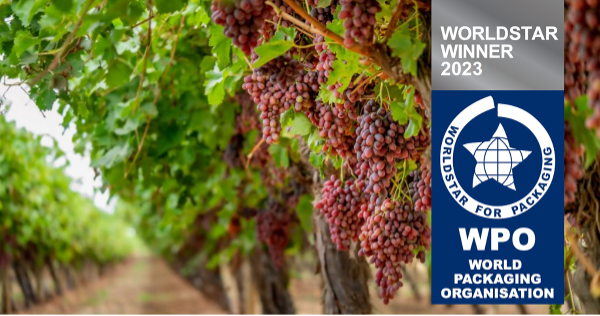 More than 840,000 units of table grapes, including bunch bags, clamshells, and cartons, were labelled with a unique serialised QR code, enhanced with the use of GS1 Digital Link standards and exported to over 15 markets in the Asia-Pacific region.
"Agriculture Victoria is delighted to have been part of this award-winning pilot program by funding and partnering with the Australian Table Grape Association to pilot the use of Results Group traceability software with growers and exporters in the sector," Agriculture Victoria chief executive Matt Lowe said.
"We're committed to working with industry to implement new traceability systems that maintain Australia's competitiveness in international markets and ensure the safety and trustworthiness of produce delivered to overseas consumers. It's a fantastic outcome to receive this industry recognition, and I congratulate everyone involved in this pilot program."
To assist grape growers in connecting with consumers and supply chains as well as consumer safety and quality standards, Result Group introduced a customised traceability platform, a label printing and management software, NiceLabel, as well as process automation and scanning technologies, designed to collect end-to-end shipping data.
The concept was to sell Australian table grapes by proving authenticity and provenance without disrupting the grape harvest and packing processes.
"In future, traceability will likely become a mandatory requirement, so it's positive that the Australian table grape industry has a traceability package – now globally recognised for its innovation – for growers to embrace," ATGA CEO Jeff Scott said.
"We're really proud of the pilot and thank the Victorian Government for supporting the project. Thanks also to technology provider Result Group and producer-exporter Perfection Fresh for agreeing to participate in the pilot. To win a world award is an exciting achievement for the Australian Table Grape Association. There was a lot of thought and strategy that went into our traceability pilot to make sure it would be a success."
The traceability project starts at the farm, where the polybags are given unique serialised GS1 Digital Link-enabled QR code labels. Labels also provide crucial traceability information about consumer pack units, cases, and pallet numbers, as well as time and temperature tracking information captured through the cloud database to combat all types of food fraud. The digital twin integrated into the QR code labels ensures that each one is unique and traceable.
Luke Gibson, chief marketing and innovation officer for Perfection Fresh said, "This significant award recognises the strong collaboration between a team of experienced and skilled stakeholders working together to overcome challenges and achieve a result, Perfection Fresh was proud to be part of this pilot project.
"Packaging is the most important touchpoint for customer and consumer communication. This technology gave us, as a brand owner, the opportunity to ensure product safety and quality across the supply chain as well as obtain direct feedback from users on our product experience."
"Winning the award is very humbling and a great recognition for our hard-working and dedicated team," Result Group general manager Michael Dossor said.
"Collaboration with current system vendors and developing interoperable protocols is always a challenge and requires trust and respect. The upside, it opens new opportunities in the traceability sector as we continue to strive to further innovative solutions in the Australian market. We couldn't have done it without our partners, the Australian Table Grape Association, Agriculture Victoria, Perfection Fresh Australia, and GS1 Australia, so this is a joint triumph."