It will be hard for PrintEx19 visitors to miss the Fujifilm stand with plans underway to run live demonstrations of the superwide Acuity Ultra press while showing examples of what the freshly released Jet Press 750S B2 digital press and Onset X Series of flatbeds can do.
The Acuity Ultra has had a successful run in the Australian market with Cactus Imaging becoming the first to install the printer last year. The subsidiary of outdoor advertising behemoth oOh!media selected it to keep up with demand and for its roll-to-roll capability. Features of the Acuity Ultra include up to eight colour channels, including white, and the use of a new high quality, low film weight Uvijet GS Fujifilm ink which is Greenguard approved and especially designed to deliver the highest quality while also fully emission-compliant for interior graphic display work.
With a 3 picolitre drop size ensuring the highest possible quality, the Acuity Ultra is ideal for the high-end indoor display market, especially for luxury brands, with Fujifilm calling the quality comparable with litho and leading water-based ink systems. Based around conventional UV technology, it also runs at much higher speeds than LED cured machines, but as the vacuum table is efficiently water-cooled, there is not an excessive build-up of heat on the print plate, meaning no shrinkage. With a throughput of up to 400sqm per hour, the machine is capable of printing on three rolls simultaneously, as well as printing super-wide format graphics up to five metres in width. In addition, linear motors ensure smooth edge-to-edge printing with no vibrations at the end of the run.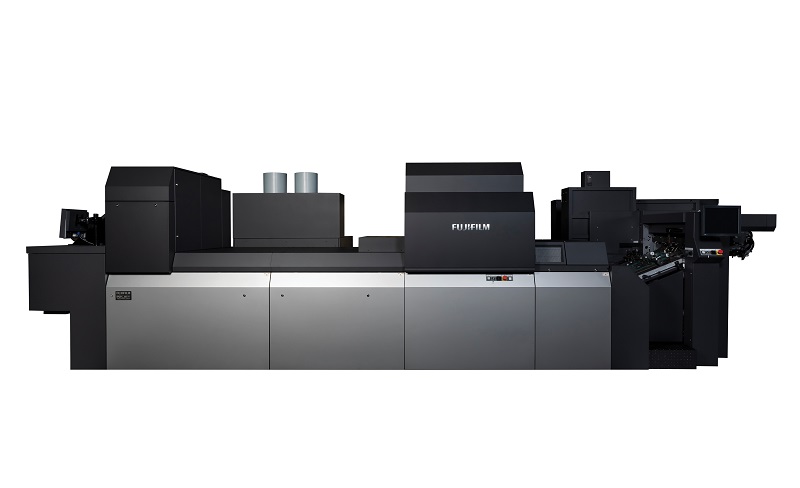 Fujifilm says the newly released Jet Press 750S has image quality so high it transcends that of offset printing while also having the ability to print 3,600 sheets per hour thanks to the latest in print head technology and ink research and development. Fujifilm first began offering the Jet Press range back in 2011 and since then it has rapidly developed and now works in synergy between reliable offset sheet handling and the latest Samba inkjet print heads.
The inkjet print head has a native resolution of 1200dpi with a minimum 2 picolitre droplet making the technology comparable to offset in terms of quality.
It also uses a "Vividia" aqueous pigment ink which has a wide colour range and Fujifilm's proprietary coating technology, Rapic, prevents ink droplets from spreading out when jetted onto paper to provide a sharp, rich image. Examples of what is possible to produce by the Onset X Series of flatbeds will also be on hand.
This series has the capacity to print at a blistering 1,125 square metres per hour, which is equivalent to 225 fullbed sheets per hour. Fujifilm says the Onset X3 is at the pinnacle of productivity. The press has 14 channels which feature three sets of CMYK plus the choice of white and orange. Fujifilm look forward to talking to PrintEx visitors about all of this and more at stand F37.
Company Contact Details:
1300 650 504 for more info or visit https://www.fujifilm.com.au/